Who is Form365 for?
For creating professional Forms, Surveys, Invitations, Registrations or Online Orders.
Collect all the data in an overview and have the option to export.

Create unlimited web forms, which are easy to use and look beautiful!
Examples:
– Product Order Form (+ payment option)
– Customer Satisfaction form
– Job Application
– Wedding invitation
– Holiday / Time-off request (example)
– Questionnaires
– Book-a-room form
– Online Payment form
Working Examples
Creating a form in the Admin area
Invalid Displayed Gallery
Job Application – 4 steps process example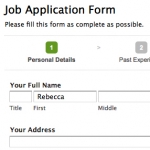 Want to try it out?
Fill in you email address below and you will receive an email with a login for a working example.
Be surprised about the possibilities of building an online form!
Interested?
Contact us and we can look at the possibilities to setup!